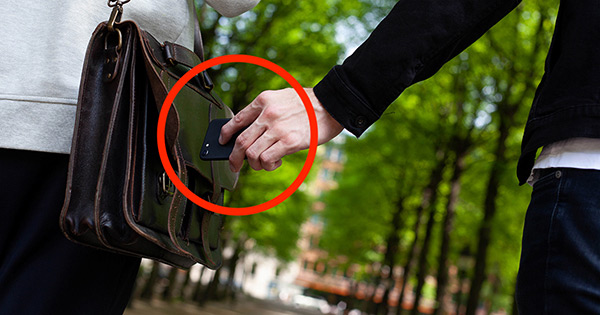 Wireless card theft
Every year, a large number of card theft cases are reported. Today, you don't just have to worry about physical card theft. You also need to consider that thieves can actually steal your money without even making physical contact! Wireless card theft was impossible a few years ago, but with the expansion of contactless card payment options, that has changed. Online shopping is now extremely popular and criminals are hungry for card details. It is now easier than ever to steal someone's card details.
Contactless payment is now standard for most credit and debit cards that are issued today. However, the card details are stored unencrypted on the contactless card. This makes it easy for anyone with the right equipment to steal the card details wirelessly from a distance. It is difficult to detect when someone is attempting to steal card details wirelessly. The device can be hidden in a bag or pocket. Those who fall victim to wireless card theft often discover that their card details have been used, while still having the physical card in their hand.
How your card details are easily stolen
Gatherings and crowded places such as malls are common places for pickpocketing. Unfortunately, being aware of this is not enough to avoid having your card details stolen. Contactless cards are convenient, the only thing you need to do is "tap-and-pay" to complete the purchase. For smaller purchases, you don't even need your PIN code. Unfortunately, the technology also allows thieves to scan your card details without having direct access to your card. This is known as wireless card theft. With help of a basic NFC reader or cell phone, the thief can access your card details through your clothes or wallet with a reading distance up to several feet.
The SkimSure card protects your wireless cards
To prevent wireless card theft, the easiest action is to place a SkimSure card in your wallet. The SkimSure card looks like a regular credit card, but it contains a jamming device that intercepts the signal from any card reader. All you have to do is place the SkimSure card with your other cards in your current wallet or cardholder. It protects 1 inch on each side, which lets you protect your whole wallet with one card. The SkimSure card prevents your cards from being stolen wirelessly, minimizing your risk of being a victim of card fraud.
The card is exclusively sold at SkimSure.com and at Best Buy.